Nice things people have said about working with me
I just got off an hour-long strategy sesh with Michael and I can't be more fricking pleased.

 

I'm not one of those people who think numbers are magic. I know they're not, and I know there's no shortcut to fixing anything I need to fix financially with special… magic. One of the reasons why I was drawn to Michael in the first place is that he was always clear in his LinkedIn posts that he doesn't have tricks. I don't want to get in trouble with the Feds if that's ok with everybody else.

 

Anyway, so we had an amazing call where he answered all of my questions, helped me prioritize what to focus on where, and identify and plan to fix my most pressing business financial hiccups. He was so realistic and supportive and did a great job reminding me that 1. I don't need to feel like shit for not having a good handle on this naturally, and 2. that it will take a couple of years to really unravel what's been going on. And. you know what? That's exactly what I needed to hear. It's only realistic that 8 years of disorganization is going to take more than 2 months to fix.

 

If you need intelligent, coherent, and comprehendible tactics and suggestions for how to get your business financials in order, I can do nothing but praise Michael and suggest his expertise to you. You won't regret it.


 

Unless you want magic.
Then you need to find a magician.

 

Colleen
Michael is great. I just started going to him and he gets the job done, plain and simple. Doesn't over-complicate things and makes sure his clients understand what is going. Great prices as well. I highly recommend him.

Ben
Michael is a consummate tax professional. I've worked with a number of different tax professionals and he is by far the best.




Michael is friendly, responsive, and knowledgeable. He takes the time to explain tax concepts that often feel structured to be intentionally opaque and purposefully confusing for taxpayers.




The world is full of awful communicators. Michael isn't one of them. He communicates quickly, clearly, and frequently, which I really appreciate. Best of all, he's used to working with businesses. If you're a freelancer, small business, or a creator who needs help with tax strategy, planning, and filing, Michael is your guy.




Most people only think about filing taxes one month out of the year, but there are things you can and should be doing the other 11 months to better position yourself to pay less in personal and business taxes when they're due. Michael can definitely help you with this!




Michael is security conscious, which you don't typically see among tax professionals. I really appreciated this about him. He uses a client portal that allows you to enable two-factor authentication to help keep your documents private and secure and WILL NOT send sensitive documents via email, which is a major security risk.




Michael helped me work through a really annoying, unique business tax issue that required manual work. He dusted off his payroll software and ran the numbers for me by hand, which is incredible. He provided me with everything needed to submit to local, state, and federal agencies.




When it looked like we weren't going to make the tax deadlines due to my unique business tax issue, he proactively filed an extension. This sounds basic, but with previous people, if I didn't specifically make the request they wouldn't file an extension. Crazy, right?




If you're not yet convinced that Michael is the person to handle your taxes, then there's no hope for you. Just kidding. You should schedule some time to chat with him. Any concerns or fears you have will be put to rest. And when Michael has finished tidying up your taxes and that heavy weight lifts from your life, you'll totally get why this review was so long.




Collin
I originally booked a consultation with Michael because I had some tax specific questions in regards to how I should set up a new business entity for my husband's company. What I came away with was SO much more than just a simple "you should do an LLC". Michael offered valuable advice based on his experience but then also gave me some things to look for in regards to the local attorney that I'd be using to set everything up. A lot of times these kinds of conversations can feel overwhelming or stressful, and Michael offers such clear and actionable advice, wrapped in a fun and easy to chat with package, I wouldn't trust anyone else as a business advisor going forward!
Mike is an extremely attentive and prompt accountant. Extremely personable. I use Mike for all my business accounting and I can always expect a great job.   

Dan
Michael was very accommodating and professional. He explained information clearly and was always available to answer questions.

Briana
Highly recommend, attentive, great communication, friendly, and a real pleasurable experience having our taxes done.
Would definitely recommend Michael, and will have him do our taxes again next year.

Donna
Have used Michael for tax filing twice and have been happy with his professionalism, willingness to take the time to explain any thing I am confused about, and promptness throughout the process. Thanks for everything Michael!

Mark
Many thanks to Michael who helped me get all my taxes and finances in order. He was incredibly professional, efficient and knowledgeable and managed to get a very challenging project organized and done on time. I will continue to use him for bookkeeping/accounting services for my small business and personal side, as well as tax preparation services for the future. I would highly recommend him to anyone looking for tax, accounting and bookkeeping support.

Alison
Michael is wonderful to work with. He very knowledgeable, detailed and thorough. We also greatly appreciate how quickly he responses to questions and concerns, in addition to his patience explaining everything. Would highly recommend!

Rita
I have a lot of anxiety around matters of finance and of course, that translates double into taxes. So being able to be comfortable, laugh, ask ANY questions, and be shepherded through the process by someone who is serious about getting it right is a HUGE relief. He was thorough and I could tell he did his homework. He's also kind in explaining things and doesn't talk down to folks about it. Michael is helping me have a better relationship with my money which is no small feat, and he got me a return this year which has not happened in a while!
 

I would recommend Michael! I no longer buy from people I don't click with. I'm going to enjoy my relationships, and this especially needs to happen around money. Michael knows his shit, he is passionate about making things work for people intelligently and who doesn't want that? Understanding government/biz needs and the ability to translate those into actionable systems all can access.
 

(Did I mention that he is damn funny?)

Mindy
So happy to have found Michael! He made navigating and filing taxes incredibly stress-free, even with tricky variables. He's always extremely patient, kind, and responsive. His electronic system for gathering and providing info makes the process quick and easy. He's thorough in answering questions and explains in a way that's easy to understand. Highly recommend Michael's services. Looking forward to working with Michael for many years to come.

Delly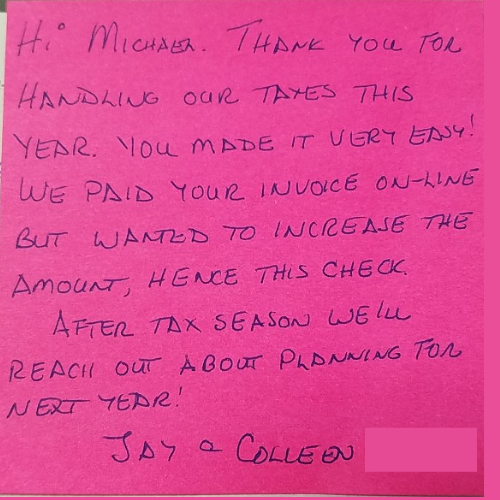 Having Michael to work on your tax return is a pure pleasure. He is very professional, kind, understanding, patient and above all knowledgeable in his field. His services are excellent and I am gladly recommending him while looking forward to be his customer in the future. Rarely one can find such a down to earth person filled with humbleness and readiness to help. All the best to you Michael.

Sophie
This is the 2nd year in a row working with Michael on my taxes and I couldn't be happier. I used TurboTax for years, but wanted an accountant when my tax return got more complex. I scheduled a meeting through his website, uploaded all of my documents to his secure portal, and had a virtual meeting to discuss everything. My return was submitted within a week. He is great to work with and I will be using him again next year.
Michael keeps me sane every year. Good guy, fantastic service. Highly recommend.
Michael is fantastic. I have used him for several years, Easy to deal with and easy to understand. Reasonable fees and excellent customer service. He is a wonderful person and has extensive knowledge of all current tax laws and changes. Totally on top of the game. I highly reccomend him for everyone !
Michael is extremely thorough, knowledgeable and was able to answer every tough question I had. Highly recommend!
It is my pleasure to recommend Michael Eckstein of Resting Business Face! Michael has been my accountant for about 5 years now, and I couldn't be more satisfied with his services and business guidance. I am a General Contractor, so I know how to build houses, yet feel I am a novice when it comes to taxes. With Resting Business Face, I don't need to know the ins and out, Mike is always there to quickly answer any questions I have and guides me for the future. 

 

His in-depth knowledge of the tax code is unparalleled. He will let you speak so that he clearly understands the situation or question and will answer all your questions, from a place of knowledge and competence. 

 

He offers a lot of different services from taking on my bookkeeping needs, to business planning, and asset allocation, along with my corporate and personal tax needs.

 

He is much more tech savvy than me yet has the patience to explain things in layman's terms.

 

You cant go wrong with hiring Resting Business Face.

 

Chris
For years I did my own taxes. I knew last year the returns were going to be more complicated than usual because of certain taxable events, so I decided to have my taxes professionally prepared by Resting Business Face. It was the right choice! Michael gave me a free consultation and then proceeded to competently and efficiently handle my tax returns. Right from the start, I could tell that he was easy to work with addressing all my questions and concerns with patience and understanding. He is dedicated to detail and just the best at explaining things and getting back to you in a timely manner. Of course, I am using him again this year for my taxes and highly recommend his tax preparation services. If preparing your own taxes has become a burden or just too time consuming, treat yourself and use Resting Business Face!

Stephanie
Working with Michael has been amazing. Two parts Real Talk, one part Therapy, with just a drizzle of sass – exactly what I needed. Michael has brought so much clarity to my business planning, but most especially he's helped me get out of my own way. I've avoided business coaching in the past because of vague promises and no clear deliverables. Michael is the exact opposite. You are getting exactly what you think: the Edna Mode of Business Consulting.
Michael was great! He really made the whole process of getting our taxes done super simple and easy. He was really fast and efficient. We will definitely be using him again in the future!
Michael was great helping me out with my personal tax filing: professional, responsive, prompt, and his service has a decent online portal. Helped me out with a last minute semi-complicated tax situation. Fair price, solid work, and great customer service.
Fantastic! This is how accounting should be done in 2022. Quick replies over email, custom video walk-through, secure client portals, and great recommendations for my business.
Michael is great. Handles everything quickly and with care!
This is my 3rd time doing taxes with Michael. He is an amazing specialist who stays current with the new rules issued by the IRS. I highly recommend this firm. These guys are quick, high tech (I usually submit everything via email), and provide best possible return while staying within IRS guidelines.

Jackie
We rely on Michael to provide an accurate, thorough tax prep every year. He is a great guy to work with and would recommend him without hesitation.
Michael keeps me sane every year. Good guy, fantastic service. Highly recommend.

Ben